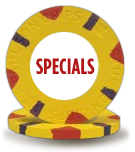 Home Page
Welcome to highstakesbarandgrill.com!
Our team strives to bring you delicious food, friendly service, an affordable menu and a comfortable atmosphere. We offer a fantastic Happy Hour from 11am - 7pm. Our food and drink specials leave you wanting more.
We are located only footsteps away from Coastal Highway on Route 54 in Fenwick Island, Delaware. We have a TON of different activities and entertainment that change seasonally so make sure to check our Events Calendar. We feature some of the best local talent in the neighborhood and keep things as lively as possible.
 If you like what we have to offer and want others to know about us, please kindly rate us on Tripadvisor.com & Yelp.com!!
The locals agree -- High Stakes is the place to be!